In this bonus content of AAPA Primary Care RAP, our hosts Adrian Banning DHSc, MMS, PA-C, DHSc and Kris Maday MS, PA-C, DFAAPA chat with AAPA President Jennifer Orozco, who discusses her journey from being a PA in Chicago to becoming the leader of the AAPA, and even shares her insights into how to balance your own wellbeing while taking care of the wellbeing of others.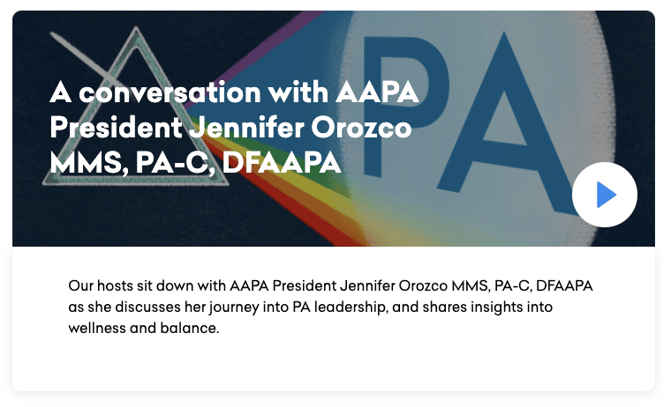 It all started with balance and flexibility. Jennifer Orozco was accepted into medical school and on track to be a doctor when she asked herself, is this really what she wanted? She knew she desired a career in which she took care of patients and their families, but she also knew in her heart she wanted to eventually get married and start a family. After all, the life of a doctor isn't always the most conducive to work-life balance, so she weighed other options. Cue PA school, a track one of her friends was on and told her to try. "You'll get the best of both worlds," they told her.
Eighteen years later, Orozco would still tell you that's true.
In the latest episode of AAPA Primary Care RAP, Orozco explains her passion for the PA life and what eventually drove her to become the current president of the AAPA.
"I was tired of hearing 'no' at work," she says. "'No, PAs can't do this. No, PAs can't do that.'"
So, she solved it as best she could: by finding the reasons why PAs could do all those things. She started getting involved at the state level, looking at legal statutes and regulations, and was eventually introduced to the Illinois Academy of PA Leadership, a revolutionary group of PAs trying to get laws changed in Illinois. From there, she attended AAPA events where she learned how different practice was across the country, and eventually became an advocate for both state and federal-level change.
"If you want change, you have to change something," Orozco says. "I felt strongly about that and wanted to get in make those changes."
Those aren't the only things Orozco petitions for. She's also been a huge advocate for personal wellness and mental health during the Covid-19 pandemic. In charge of testing at her Chicago academic command center, she witnesses firsthand every week the impact the pandemic has had on people.
"I realized we have to start talking about mental wellness and health, especially for our healthcare providers. We're always the last to take care of ourselves."
The key, she says, is finding a passion outside of work.
"When you start there, that will trickle into your work and all of your life as a PA. I encourage everyone to go out and find what that is and embrace it wholeheartedly. 'Cause it works."
What started with balance and flexibility has come full circle all these years later. Now, as the Head of Advanced Practice at Rush University Medical Center in Chicago, Orozco looks back in awe at how she went from being an emergency medicine and vascular PA, to the head of the AAPA, implementing the hard-fought changes of which she'd hoped and dreamed.
"I never expected to be here at this point," she says. "It's been incredibly rewarding and fulfilling."