Our CEO Aaron Bright, MD, sat down to discuss the remarkable way in which Hippo's giving back where it really counts this holiday season.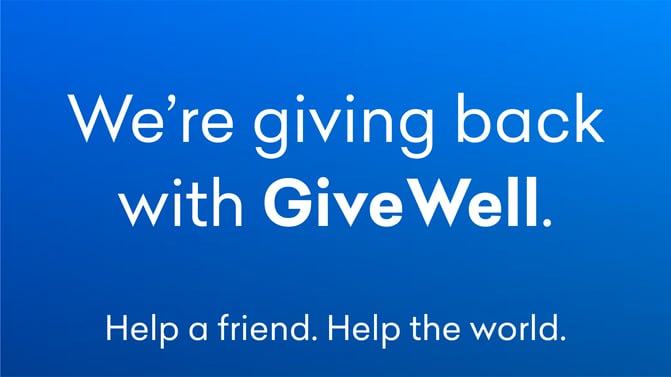 Hippo's mantra has always been to help clinicians learn, grow, and thrive. This holiday, we're expanding our reach even farther. 'Tis the season for giving, and our GiveWell program is doing exactly that - giving back to those less fortunate around the world.
Here's how it works: Any time your referral results in a Hippo subscription, Hippo gives $50 to GiveWell's maximum impact fund. GiveWell grants this gift each quarter to the charities they believe are doing the most good per dollar.
We were able to grab some face time with CEO and Founder Aaron Bright, MD, to discuss Hippo's mission, the importance of paying it forward, and how generosity plays such a perfect role in Hippo's vision of community.
Q: Why was it important that Hippo partner with a charity?
Aaron: Hippo has been a truly mission-focused do-good company since we founded it. Speaking for myself, coming from an emergency medicine background where I had the privilege of helping individual people in immediate need, I never wanted to lose the feeling that we were doing the right thing when we could. I think medical education, supporting the people that are doing the work of medicine, is also keeping you and I and our parents and kids and grandparents safer and healthier at the bedside. It's something that most people don't think about, but is there anything more important than helping the front line folks find ways to alleviate human suffering, stay up to date, and feel good about what they do? We're all going to be patients someday. Giving some of the harvest that comes with a successful business back to the universe is along that same line of thinking. It's just the right thing to do.
Q: How does GiveWell resonate with Hippo's mission and align with the company's culture?
Aaron: As humans, we are wired to give to the most emotional, or the most local, or the most immediate cause that we encounter. We are not good at picking the right place to donate if our goal is to affect, change, or save as many lives as possible. There is a relatively new movement called Effective Altruism that seeks to get around our tendency to make those decisions poorly. GiveWell is part of that movement in a way in that it does all of the work for us, finding the top charities for saving and improving lives. It's kind of a shortcut to doing the most good with the resources we have. I'd recommend everyone go down that Effective Altruism rabbit hole online. It is fascinating.
Q: Do we know anything tactical about what charities and/or projects the money from GiveWell has funded?
Aaron: We do not know who will be supported in Q4 yet, but in the past, GiveWell has directed donations to charities as Helen Keller International, Against Malaria Foundation, Actions Deworm the World Initiative.
Q: In addition to the GiveWell $50 donation, referrals also result in a 20% discount for a friend. How does generosity play into Hippo's vision of community?
Aaron: Obviously, we think what we are doing here at Hippo is important. We're very proud of it and feel grateful to have the chance to make our own impact. So, bringing more people to the Hippo community is also a goal. The stronger that community gets, the more we can do for it. Sometimes marketing can be pretty gross. Tying the necessary activity of marketing with the philanthropy of GiveWell makes me feel good about both.
If you want to give back with GiveWell and have purchased a Hippo product, follow these 3 simple steps:
Locate your latest Hippo email and click the GiveWell link at the bottom. (Log in with your Hippo credentials!)
Share your referral link. Your friend gets their Hippo goods at a 20% discount!
After your friend's purchase, Hippo makes a $50 donation to high-impact charities!