As PA-Cs everywhere are starting the 1st quarter of the new PANRE-LA, we know anxiety is high. Five minutes seems like a long time when we are watching our favorite sports team try to come from behind or desperately try to hold on to the lead. But when that PANRE-LA timer starts to tick down, five minutes a question doesn't seem that long at all. And we know that panic can set in quickly with each passing minute.
Here are two expert tips for how to efficiently use the AAPA PANRE-LA Reference Guide so that you are confident in your final answer well before your time runs out:
1. Before opening your question item, look at the corresponding section of the guide that matches the item's content area.
Familiarize yourself with the section's table of contents, key tables, diagrams, radiographs, and images. Take a few minutes to browse through the entire chapter to see what is there. This will help you quickly find the information you need once you open the question. Many sections include bonus content like pharmacology tables, basic anatomy refreshers, and expanded information on diagnostic exams pertinent to that organ system.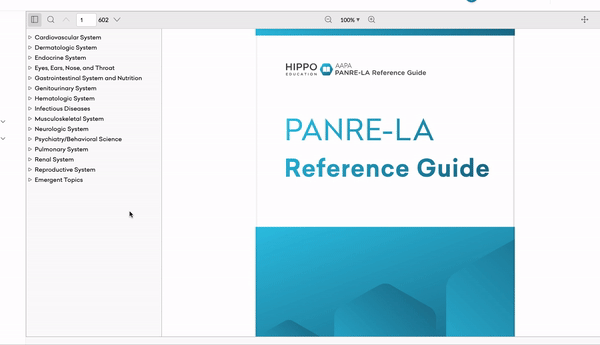 2. Use the AAPA PANRE-LA Reference Guide's search function to quickly look up key terms.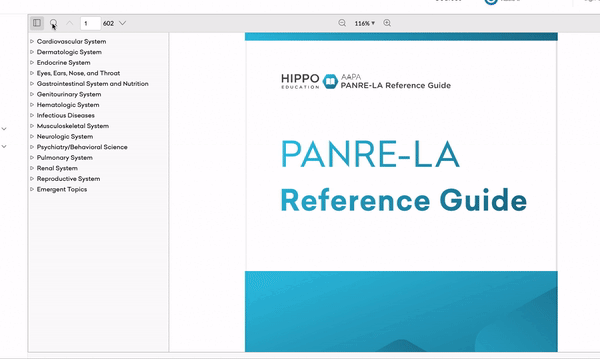 We hope this information assists you in optimizing your use of the AAPA PANRE-LA Reference Guide. Please share your favorite tips with us or just drop us an email to let us know how your first quarter PANRE-LA went at pa@hippoeducation.com. Our AAPA PANRE-LA Reference Guide writers and PA Team at Hippo Education hope this guide helps you be more confident for the PANRE-LA quarters to come.